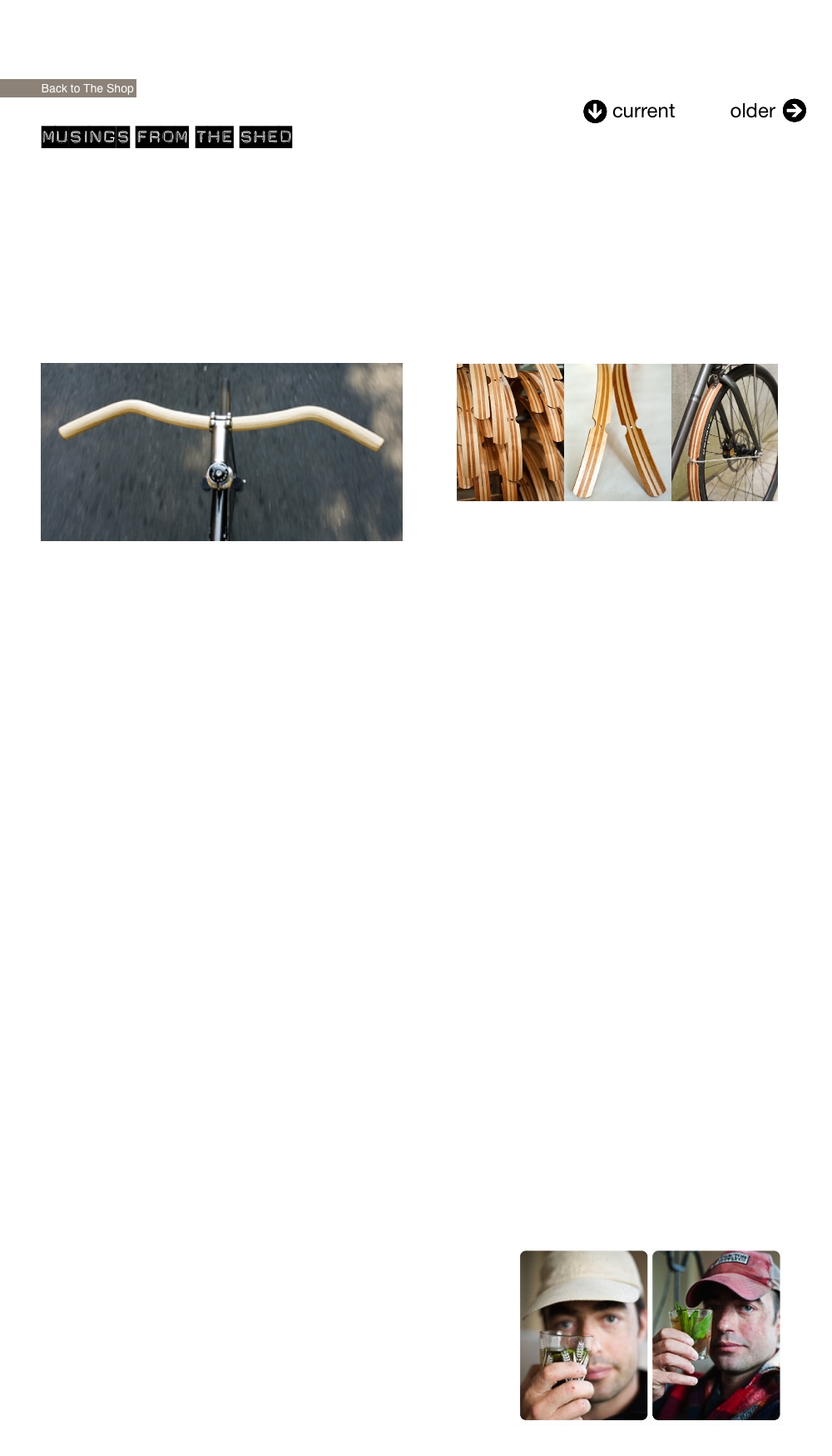 Virtual Worlds & Real Values.
It's a funny old world is The Internet. Given my age I'm from that generation which remembers the 'net when it was all just trees and fields. Even today - in what is still it's infancy - it has already evolved to become so much more than the sum of it's parts; a democratising, empowering force, a market place, a meeting place, even, dare I suggest it, a subconscious influence redrawing our mental boundaries between what is real and what is imagined. If this sounds like Grade A sophistry, then give me a moment to illustrate my point.
Today is Sunday 24th of May 2015. A year ago today, Ezra Caldwell passed away at his home in Harlem, New York. Some of you will know about Ezra, others won't. Several years ago I was looking for a new handlebar for a bike and saw this photo:
At the time, Ezra had just thrown in the towel on a career teaching modern dance, and started FastBoy Fenders (& subsequently, FastBoy Cycles). He really was a man for all seasons and over these last several years had documented all of his life, including his resolution to leave dance, to build frames and deal with cancer. He was in and out of remission twice over a period of around 4 years, the second time seemingly for good, before getting news that "no more can be done" and subsequently resolving to forego more chemo' and live-life-large to the end. As well as being a fine frame builder he was a masterful photographer, a great cook (see the videos on his website) and a magician of a woodworker. His writing on his blog was both masterful in it's lyricism and brave beyond belief for it's humanity and honesty. Cathartic, very probably, but quite extraordinary nonetheless. My own Dad died of cancer and while he was from a totally different generation and never "got" cycling, I showed him some of Ezra's blog and - as a man who certainly loved good writing - he found much to admire there.
With the work we do, I sometimes scratched my head over such things as treating bare steel to dissuade rust but retain a natural look. A brief one line email was sent, more in hope than expectation. To say the reply I got was expansive would be an understatement. And it wasn't a one off either. Until he became REALLY ill, he always replied to an email. All over the internet his legend is one of a generous man. A kindly, sharing individual. A creative whirlwind whose energy, even in the face of illness, puts the rest of us to shame. And, it seemed, he had time, energy and kindness for everyone - both people he knew as readily as towards random others like me. Everyone who knew of him knew that the end was coming. When he was given "6 months" (18 months before he actually died) he decided against the horror and debilitating effects of further chemotherapy. He lived well right to the end and I know of nobody who set a finer example of just how to live life to the best of your ability. He was a magnificent example of basic human empathy and the day I heard of his death I was shocked to find that I cried as if a close friend had passed away. I never actually met him but felt inspired by his work and privileged to have strayed into his universe, even just a little.
The world is changing. Moving on. Progressing. We now have new opportunities and channels of communication we could not have foreseen even a short time ago. And those channels are hugely empowering and (although "virtual") are becoming as significant as the real world experiences we have known all of our lives. We could not have started the business we now operate without them. Countless other people around the world have used this opportunity to do what they love and show it to a global audience. Bloggers, Podcasters, Craftsmen, Writers, Photographers, Designers; the list grows by the day. Interpersonal relationships develop and build into friendships with people we may never meet yet it all adds immensely to the colour of our lives. My God, we live in exciting times don't we? These are "the-good-old-days" - right here, right now. What a wonderful world (and I mean that in the most literal sense of the word "wonderful").
I keep the 24th of May in my phone's calendar as an annually recurring event. It reads; "Ezra died today. Remember; Live Life Loud." And I must. Do the things you do in this world with a passion. Do them as well as you can, and take pride in your work; it shows the world who you are.
In the words of the man himself (& with both sadness and joy);
"Big Love
Fast Boy Out."